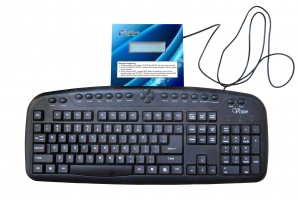 Evaluator Quiz adalah fitur untuk Lab Bahasa yang berupa tombol quiz pada masing-masing panel siswa. Fungsi tombol quiz adalah untuk menjawab pertanyaan soal berupa pilihan A/B/C/D/E, dimana setelah quiz selesai, hasilnya langsung dapat dicetak sehingga guru dapat melihat nilai dari masing-masing siswa yang mengikuti quiz/ujian tersebut.
Hasil quiz juga dapat dikirim via SMS ke nomor HP peserta atau wali murid.
Ini juga dilengkapi dengan LCD Display sebagai tampilan registrasi siswa dan jawaban quiz siswa. EVALUATOR QUIZ MGLAB EQ-450 juga didukung keyboard PS2 sebagai fasilitas untuk registrasi siswa dan writing mode.
Fitur canggih sebagai pelengkap pada Lab Bahasa di sekolah / kampus Anda.
Fitur-fitur EVALUATOR QUIZ MGLAB EQ-450:
* Proses instalasi sederhana.
* Dongle Security.
* Client Up to 50 Channel.
* Kompatible dengan tipe Lab Bahasa Digital apapun.
* LCD Display.
* Keyboard PS2/Keypad Numerik.
* Registrasi acak di client manapun.
* 5 tombol digital quiz.
* Aplikasi Software mudah dan familiar ( standart office ).
* Support Double Exam.
* Support import/export data to excel.
* Modem wavecomm for SMS.
* Tampilan Grafik report.
* Tampilan Nilai Mean, Median dan Modus.
* Detail history jawaban.
* Auto SMS report to client.
* Manual SMS report to client.
* Pembuatan soal bisa dilakukan di Ms.Word.